Great Eagle Music Children Ensemble Presented "Pre-Chinese New Year Flash Mob Music Performance"
Dozens Of Children Played Melodious Movie Theme Music
(January 20, 2020 – Hong Kong) As Year of the Rat is approaching, Great Eagle Music Children Ensemble ("GEMCE"), which is solely sponsored and actively supported by Great Eagle Holdings Limited (stock code: 0041.HK), has recently performed some well-known movie soundtracks to welcome Chinese New Year.
The ensemble held the "Pre-Chinese New Year Flash Mob Music Performance" at Gold Coast Piazza, Tuen Mun in the afternoon on 19 January to celebrate the coming of Chinese New Year with both locals and tourists. More than 30 wind, string and percussion students from grassroots families participated in the flash mob music performance. These talented children have not let their socioeconomic status limit their musical talents. Through persistent practice, the children successfully performed three popular movie theme tunes, including those from "Star Wars: The Force Awakens", "Jurassic Park" and "The Greatest Showman".
Great Eagle Group is committed to doing social good and believes that children can build self-confidence and character through learning music. Therefore, Great Eagle sponsored the Music Children Foundation to establish GEMCE in 2018. The ensemble consists of children from grassroots families whose performance at Music Children Foundation is outstanding. The children will be able to hone their musical skills, broaden their horizons and build self-confidence through comprehensive training in music, public performances and competitions. They are encouraged to turn their musical skills into a lifelong career. GEMCE aims to spread hope and the message of "music changes lives" through its excellent performances.
– End –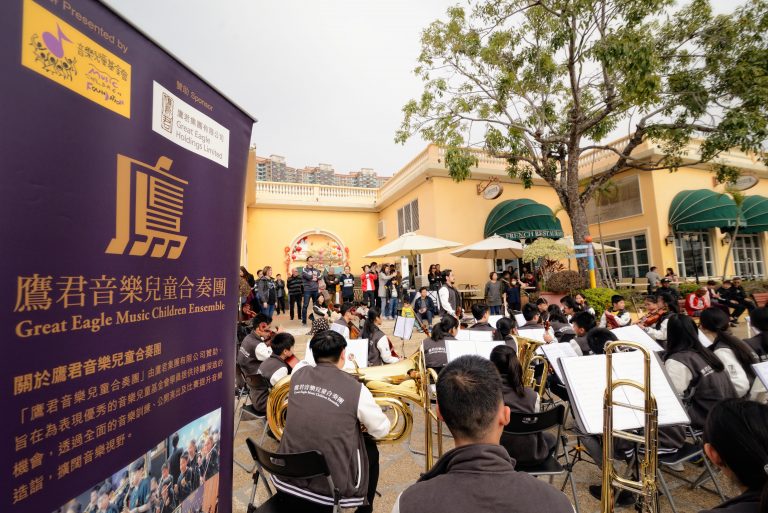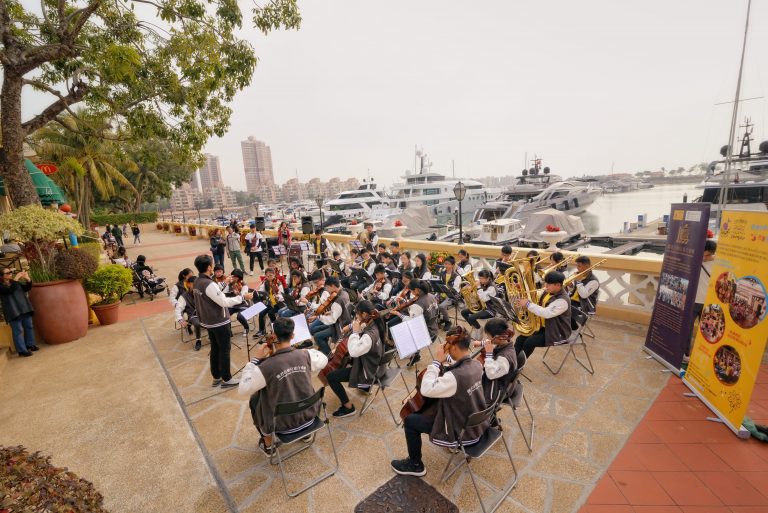 More than 30 wind, string and percussion students participated in the flash mob music performance.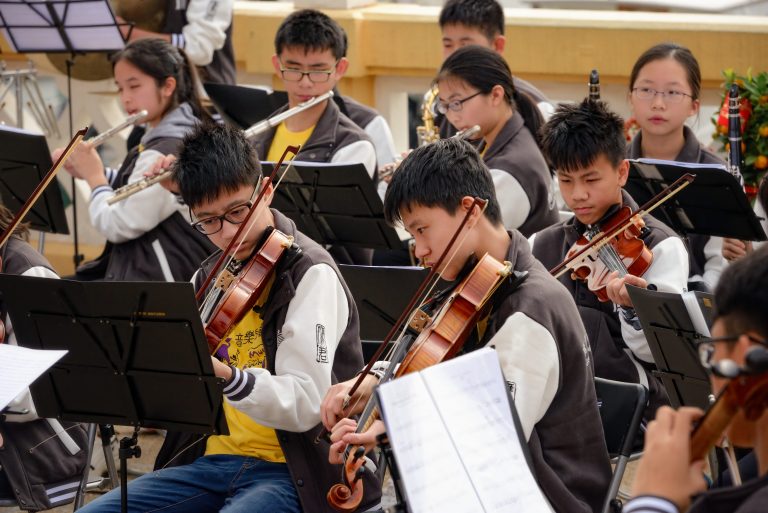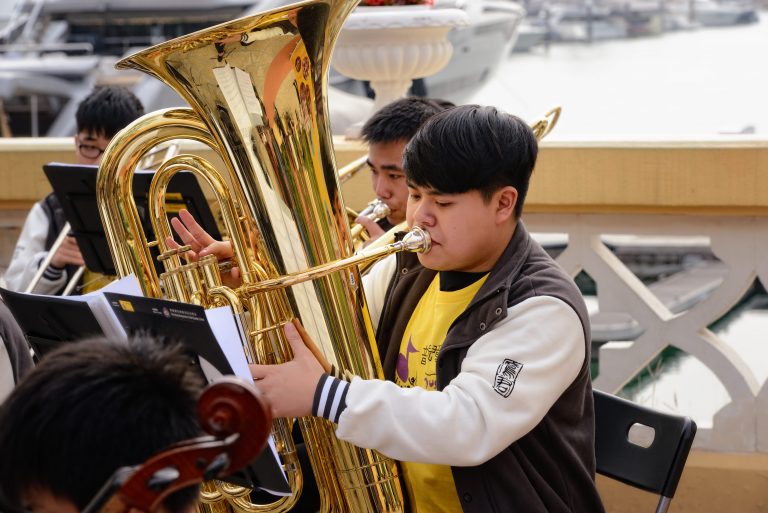 Thanks to the comprehensive training and persistent practice, GEMCE members performed confidently in front of the audience.
About Great Eagle Music Children Ensemble
Great Eagle Music Children Ensemble (GEMCE) is sponsored by Great Eagle Group, and aims to provide outstanding students with the opportunity to pursue further music education. Through comprehensive music training, public performances and competitions, they can improve their musical skills and broaden their horizon. Led by professional musicians, the ensemble consists of 24 wind and percussion students, 18 string and elite violin students, as well as 11 outstanding choir members. GEMCE currently consists of 53 members. Since its establishment in 2018, GEMCE has been featured and recognized by the performances it staged at various occasions.
About Music Children Foundation
Established in 2013, Music Children Foundation (MCF) aims at providing free-of-charge music education for underprivileged children aged 16 or below in Hong Kong; and in an enjoyable learning environment to help them build their confidence, shape their characters, and to express themselves through music. Led and instructed by professional musicians, MCF provides comprehensive music education programs through the teaching of musical instruments, orchestra and choir training, music appreciation, and attending music and other arts performances to broaden their horizon and appreciation ability. Children are able to develop their potential and talents in music alongside their academic work.
By engaging volunteers and professional musicians in a diverse range of musical programs, we hope the society would understand the needs of the less fortunate groups in Hong Kong.
Website: www.musicchildren.org.hk
Facebook: Music Children Foundation
About Great Eagle Group
The Great Eagle Group (Stock Code: 41) was founded in 1963 and was listed on the Hong Kong Stock Exchange in 1972. The Group's principal holdings include Champion Real Estate Investment Trust (Stock Code: 2778) and Langham Hospitality Investments (LHI) (Stock Code: 1270), which were both listed in Hong Kong in 2006 and 2013, respectively. The Group was founded in Hong Kong and has now established a global presence. Being a Hong Kong developer, the Group also owns and manages an extensive international hotel portfolio under "The Langham" brand and its affiliate brands. Headquartered in Hong Kong, the Group develops, invests in and manages high quality residential, office, retail and hotel properties across Asia, North America, Australasia and Europe.
For the property portfolio, Champion REIT (Stock Code: 2778) owns a Grade-A commercial office space at Three Garden Road in the central business district of Hong Kong, as well as the office tower and shopping mall of Langham Place in Mongkok, Kowloon. For the hotel portfolio, the Group owns more than 10 luxury hotels globally and manages over 20 international hotels, operating under "The Langham" and its affiliate brands, with a total number of rooms exceeding 9,000. In addition, LHI (Stock Code: 1270) owns the three hotels in Hong Kong, including The Langham, Hong Kong in Tsim Sha Tsui; Cordis Hotel, Hong Kong in Mongkok; and Eaton, Hong Kong in Jordan.
The Group's development projects in progress include a residential project at Pak Shek Kok, Tai Po, Hong Kong, three development projects in San Francisco and Seattle, USA, as well as a hotel redevelopment project in Tokyo, Japan.
For further enquiries, please contact
iPR Ogilvy PR
Callis Lau / Gary Li / Molisa Lau / Vivian Ng / Camellia Johnson
Tel:  (852) 2136 6952 / 3170 6753 / 2136 6953 / 3920 7651 / 3920 7640
Fax: (852) 3170 6606
Email: ge@iprogilvy.com