Great Eagle Group Supports "Oral Health Services For Preschool Children"
To Promote Dental Health Of Young Children In Hong Kong
15 January 2020, Hong Kong – Great Eagle Group is pleased to be the sponsor of "Oral Health Services for Preschool Children" organized by the Department of Paediatrics and Adolescent Medicine, Li Ka Shing Faculty of Medicine, The University of Hong Kong. The programme aims to provide comprehensive dental care services for underprivileged young children, especially the pre-primary students who are not covered by the current School Dental Care Service administered by the Department of Health.
Sponsored by Great Eagle Group, "Oral Health Services for Preschool Children" will provide dental care services for 500 preschool children in Hong Kong this year. The services cover a wide range of areas, including oral health education, oral examination, dental scaling, preventive dental treatment (e.g. topical fluoride applications, pit, fissure sealants, etc.), dental fillings, simple dental extractions, also timely referral of complicated cases to specialist care.
Early childhood is a critical period of development. However, the School Dental Care Service currently provided by the Department of Health does not cover children from this age group. Kindergarten students with dental problems have to visit private dental clinic or wait until they become eligible for the public service. Therefore, children from underprivileged families could not receive timely dental treatment, causing delayed treatment and worsening of dental problems.
Dental Surgeon Dr. Nguyen Loana said, "Many parents think that children's deciduous teeth will be replaced by permanent teeth so they ignore the cleanliness and hygiene of deciduous teeth. This easily leads to severe tooth decay among preschool children. Dental caries is among the top 10 prevalent diseases worldwide. The prevalence of dental caries is so high among preschool children in Hong Kong that half of them are found to suffer from the disease, and the situation is more serious than in other places in developing Asian countries. Furthermore, over 90% of the cases of serious dental caries have resulted from untreated decaying teeth. Poorly developed milk teeth can adversely impact the health of one's adult teeth. Having regular dental check-ups for young children would be of vital importance in ensuring their dental health."
Mr. Terence Cheng, Senior Manager – Corporate Social Responsibility of Great Eagle Group, said, "Early childhood is an important period during which socioeconomic conditions become biologically embedded. Bridging the health disparity during early childhood can promote a better child development and school readiness, which could provide substantial improvement during later life. Compared with the public School Dental Care Service which focuses on primary school students, "Oral Health Services for Preschool Children" can meet the needs of underprivileged children, also forging the pathway to a more effective public oral health care system. By supporting the program, Great Eagle Group aims to promote young children's dental health, also to prompt the Department of Health to support oral health services for young children by extending the public service to all kindergartens in the city."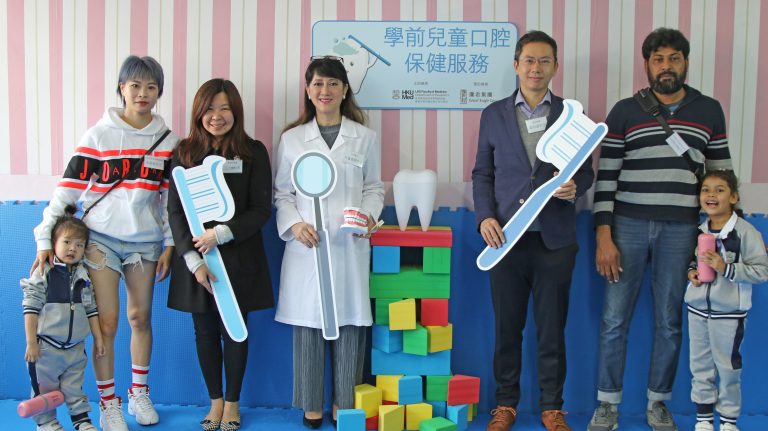 Mr. Terence Cheng (third from the right), Senior Manager – Corporate Social Responsibility of Great Eagle Group, Dr. Nguyen Loana (middle), Dental Surgeon, Ms. Gloria Kong (third from the left), Principal of Fu Yiu Kindergarten, and students together with their parents of Fu Yiu Kindergarten (first and second from the left; first and second from the right) supported "Oral Health Services for Preschool Children".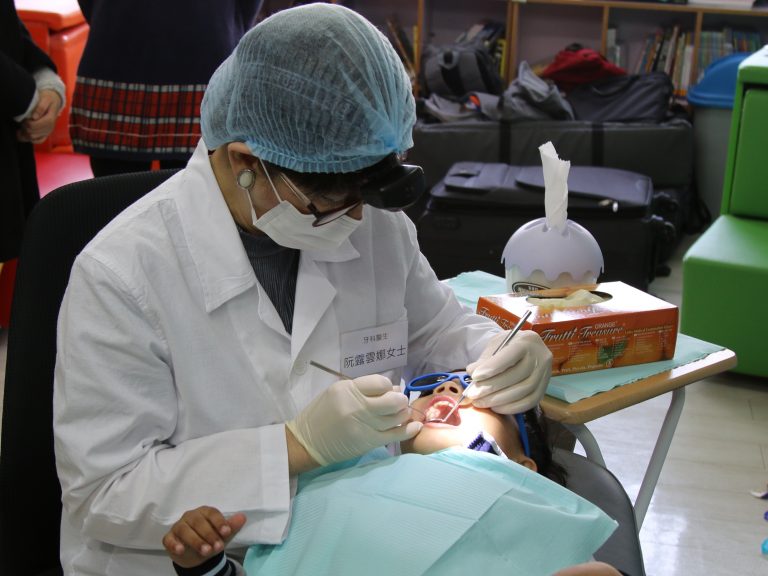 Dr. Nguyen Loana examining the oral health of preschool child who joined the programme.
– End –
About Great Eagle Group
The Great Eagle Group (Stock Code: 41) was founded in 1963 and was listed on the Hong Kong Stock Exchange in 1972. The Group's principal holdings include Champion Real Estate Investment Trust (Stock Code: 2778) and Langham Hospitality Investments (LHI) (Stock Code: 1270), which were both listed in Hong Kong in 2006 and 2013, respectively. The Group was founded in Hong Kong and has now established a global presence. Being a Hong Kong developer, the Group also owns and manages an extensive international hotel portfolio under "The Langham" brand and its affiliate brands. Headquartered in Hong Kong, the Group develops, invests in and manages high quality residential, office, retail and hotel properties across Asia, North America, Australasia and Europe.
For the property portfolio, Champion REIT (Stock Code: 2778) owns a Grade-A commercial office space at Three Garden Road in the central business district of Hong Kong, as well as the office tower and shopping mall of Langham Place in Mongkok, Kowloon. For the hotel portfolio, the Group owns more than 10 luxury hotels globally and manages over 20 international hotels, operating under "The Langham" and its affiliate brands, with a total number of rooms exceeding 9,000. In addition, LHI (Stock Code: 1270) owns the three hotels in Hong Kong, including The Langham, Hong Kong in Tsim Sha Tsui; Cordis Hotel, Hong Kong in Mongkok; and Eaton, Hong Kong in Jordan.
The Group's development projects in progress include a residential project at Pak Shek Kok, Tai Po, Hong Kong, three development projects in San Francisco and Seattle, USA, as well as a hotel redevelopment project in Tokyo, Japan.